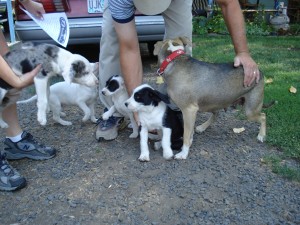 Get your pet fixed …
Why spay or neuter?
Pet overpopulation!
Between six and eight million dogs and cats enter U.S. shelters every year.
Spay/Neuter is a proven way to reduce pet overpopulation, ensuring that every pet has a family to love them.
Our Programs
June 2020 UPDATE: The clinic we use is just starting to open back up at half capacity after the COVID-19 closures of the last 3 months. We are working through the list of animals scheduled from the canceled clinics, and then will tackle the waitlist of pets who need scheduled for surgery. Please see below if you need your animal spayed/neutered sooner than we can get them in.
CATS and Dogs under 70 pounds:
We offer low cost cat and dog spay/neuter clinics, usually a few times a month. These clinics are open to low income households, AND to stray and feral cat caretakers, regardless of income. Fill out and return the Cat/Dog spay/neuter forms below (the instructions include the income guidelines for qualifying as low income) or call us at 541-276-0181 to get on the list for the next clinic. If you leave a message, please also e-mail your information to pawspendleton@gmail.com. Scheduling is usually 3-4 weeks out *SEE NOTE ABOVE FOR CURRENT SCHEDULE* ALSO, please call if you know of any wild/stray cats that are not yet fixed, we may have grant funding available to help get them fixed. Download the clinic information and forms below:
Upcoming clinic dates:
CATS (overnight trip): No clinic dates set yet (the clinic is giving us space about a week in advance)
DOGS: No clinic dates set yet (the clinic is giving us space about a week in advance)
Dogs 70-90 pounds: Please call us for options, or contact the clinic directly: Prevent Homeless Pets, Benton City, Washington. They may be able to schedule your dog for another clinic date.
Dogs over 90 pounds: Please call us for lower cost options.
If you don't qualify as low income, give us a call at 541-276-0181 for other lower cost options. Lower cost clinics include Kennedy Vet in Milton-Freewater, OR (541-938-9306), Hansen Veterinary Services in Lexington, OR (this is a mobile clinic that travels through Eastern Oregon) (541-561-2941) or The Fix Machine in Kennewick, WA (509-987-1738)
If you would rather take your animal to the spay neuter clinic yourself instead of using PAWS transport services, please call the clinic directly to make an appointment: Prevent Homeless Pets, Benton City, Washington, 509-497-1133. As scheduling is handled by volunteers, they may take a few days to return your call.
**Adobe Reader is required to open and print this application. If you do not have Adobe Reader on your computer, you can download it here.